The clinical importance of light polymerization for DSOs
The importance of a light-curing device's proper use, intensity and the indications of its different modes is commonly underestimated. In this webinar, we will be discussing why light polymerization plays a vital role in your dental treatments.
In this webinar, you will learn more about the following themes:
Ivoclar Vivadent's intended purpose for DSO members
Brief history and scientific background of light-curing devices
Common mistakes with light polymerization and its clinical implications
Features required of a light-curing device for successful light polymerization
Adequate polymerization times


CE Credits: 1 Hour
---
About Dr Kopikrishna Thirunelakandan: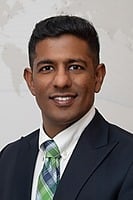 Dr Kopikrishna Thirunelakandan obtained his Doctor of Dental Medicine (DMD) degree in Hungary. He went on to completing a postgraduate training at the prestigious UCL Eastman Dental Institute in the UK – in which he attained first class honours in the 'Restorative Dental Practice' program. Dr Thirunelakandan practiced in the UK for over many years before he moved to Switzerland where he currently practices in the Internal Dental Clinic at Ivoclar Vivadent AG. Simultaneously, he works as Global Education Clinical Manager where imparts his knowledge to other dentists around the globe through lectures and practical hands-on workshops.