The Art of Efficiency in Anterior and Posterior Restorations
The foundation of every dental practice is the proper and efficient placement of posterior and anterior restorations. Esthetic anterior restorations are achieved efficiently when replacing the tooth's enamel with universal composite. Larger anterior restorations require additional case planning, including dentin shade composites.
When placing direct composite restorations in the posterior segment, the Bulk-Fill technique is gaining popularity and has become an efficient standard of patient care. These new advancements in resin and photo-polymerization technology allow us to simplify these procedures without compromising quality. Additionally, these advancements can improve the profitability of these procedures, saving the dentist valuable time. It is estimated that Bulk-Fill materials can save a doctor approximately 55% of their working time in their posterior restorations without compromising on their quality or esthetics.
Topics covered in this webinar are especially dedicated to DSOs:
Considerations for universal adhesives

Shrinkage stress with shorter curing times

Comparison between layering technique and Bulk-Fill technique


---
About Dr. Tatiana Repetto-Bauckhage: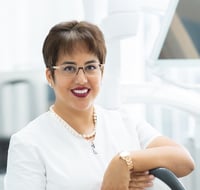 Studied dentistry in Lima, Peru. Post-graduation in economical and marketing specialization courses in Germany (certified "health manager"). Since 2005, Manager Global Education clinical at Ivoclar Vivadent AG in Schaan, Liechtenstein. International lecturer at different educational centers worldwide, universities including workshops. Clinically, using the latest developed products in the internal clinic of the Research & Development department of Ivoclar Vivadent AG.