Pushing the limits of direct composite materials
After the current unprecedented pandemic, it is possible that patients will place dental care lower down their priority list. However, bread and butter dentistry with direct composite restoration will always have an important role to play in the immediate future. In this webinar, participants will learn how they can push the limits of modern day composites. This involves using a combination of universal and bulk fill composites to replace large dental cavities/cusp replacements efficiently without compromising on performance and aesthetics.

In this webinar, you will learn more about the following themes:
Potential new norm in dentistry immediately after COVID-19
Isolation of the treatment field
Types of composite material, their properties and indications
Clinical cases and studies supporting bulk fill composites
CE Credits: 1 Hour
The webinar will be available until June 16, 2022.
---
Trainer: Dr Kopikrishna Thirunelakandan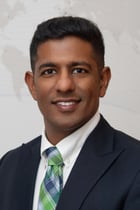 Dr Kopikrishna Thirunelakandan earned his Doctor of Dental Medicine (DMD) degree in Hungary. He did his postgraduate studies at the prestigious UCL Eastman Dental Institute based in London, UK, where he graduated with honours from the "Restorative Dental Practice" program. Dr Thirunelakandan practiced in Great Britain for many years before relocating to Switzerland. He currently practices in the in-house clinic of Ivoclar Vivadent. At the same time, he holds the position of Manager Global Education Clinical. This position allows him to share his knowledge with other dentists around the world by conducting lectures and practical hands-on workshops.