Indications and protocols for direct restorations
The evolution of composite materials, together with adhesive techniques, are meeting the demands of patients who are looking more often for less invasive therapies combined with highly esthetic results in posterior and anterior regions. The range of restorative options is getting wider, thanks to composite that can adequately respond to mechanical stress, offering natural esthetics when adhesion is performed with specific protocols. The main goal of this course is to provide indications and a protocol for composite direct restorations. All the steps will be addressed with step-by-step photos and videos on patients.
In this webinar, you will learn more about the following themes:
Diagnosis in restorative dentistry
Indications for direct composite restorations in the posterior teeth
Cavity preparation
Adhesion protocols
Layering, finishing and polishing
CE Credits: 1 Hour
The webinar will be available until November 27, 2022.
---
Trainer: Dr Riccardo Ammannato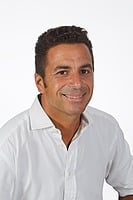 Dr Riccardo Ammannato graduated from Genoa University (Italy) in 1999. During an internship at the Department of Operative and Restorative Dentistry (University of Zurich) under the guidance of Prof. F. Lutz, he studied adhesive dentistry and its applications in operative and prosthetic dentistry. He is a teacher at the University of Rome and Naples and an active member of the European Academy Esthetic Dentistry (EAED), the Italian Academy of Restorative and Conservative Dentistry (AIC) and the Italian Academy Esthetic Dentistry (IAED). He is author of articles on adhesive and restorative dentistry and lecturer at international congresses. He currently practices at his office in Genoa with a multidisciplinary approach focusing on esthetics and restorative dentistry.