How to proceed - From intraoral scanning to the printed model
This webinar covers everything from the scanning of the intraoral situation to the virtual design and 3D printing of dental models. Learn how to import an order or an intraoral scan into Dental System, how to use Model Builder and how to create an STL file, which you need for most 3D printing systems.
In this webinar, you will learn more about the following themes:
Importing scans or complete orders

Using Model Builder

Creating a file for printing a model
CE Credits: 0.5 Hour
---
About Claudio Joss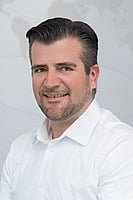 Claudio Joss, CDT, is a Dental Technician from Switzerland. After he received his federal diploma as CDT, he worked in different laboratories in Switzerland as an all-rounder, ceramist and laboratory manager. He has been working at the International Centre for Dental Education (ICDE) of Ivoclar Vivadent AG in Schaan, Liechtenstein, since January 2009. In his role as Senior Manager Global Education technical / digital, he is in charge of the global education activities for 3rd party commercial organizations (dealers) and customers as well as for the training of international internal staff on CAD/CAM products and workflows. He is also responsible for the organization of internal global education meetings. Claudio regularly lectures at international congresses and supports the Ivoclar Vivadent R&D department in the development of new products in close cooperation with Marketing and Sales.