Be more productive with your direct restorations in daily practice
Composites have become the material of choice in direct restorative dentistry in recent times due to their exceptional esthetics and fast handling. The main factors that affect the reliability of composite restorations include esthetic considerations, the tooth itself, the material and adhesives used and the operator. In this webinar, we would like to show you how you can improve the efficiency of your routine dental work. Nowadays, it is important to place a direct composite restoration efficiently without having to compromise on quality or esthetics.
In this webinar, you will learn more about the following themes:
Isolation
Considerations for universal adhesives
Clinical considerations between the layering and bulk-fill techniques
Required polymerization times
Ideal accessories to reproduce morphology, surface texture and lustre
---
Trainer: Dr Tatiana Repetto-Bauckhage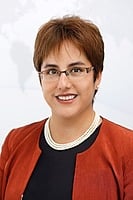 Dr Tatiana Repetto-Bauckhage studied dentistry in Lima, Peru. Her postgraduate education in Cologne, Germany, included business management and marketing oriented training (certified manager in public health). She has held the position of Manager Global Education Clinical at Ivoclar Vivadent in Schaan, Liechtenstein, since 2005. In this position, she is responsible for conducting international lectures and practical demonstrations at the company training centres and universities around the world. She works with the latest Ivoclar Vivadent products in the company's in-house R&D clinic.