A holistic approach to an easy workflow
In this webinar, we will give you an insight into a new workflow. First we will talk about the VivaScan IOS scanner and show you the technical details and benefits. Then we will introduce you to the versatile CAD software. At the end you will have an overview of the complete new chairside / labside workflow.
In this webinar, you will learn more about the following topics:
VivaScan
Exocad crown workflow
PrograMill CAM nesting
PrograMill DRY milling
CE Credits: 0.5 Hour
The webinar will be available until January 10, 2023.
---
Trainers: Claudia Springmann & Thomas Reiter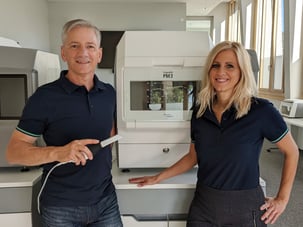 Claudia Springmann qualified as a dental technician in 1998. She worked in the sales department of Wieland Dental & Technik in Pforzheim from 1998 to 2001. She lived in Italy from 2001 to 2007, where she worked for Wieland Dental s.r.l. Eventually, she moved back to Germany and again worked for Wieland Dental & Technik in various departments, such as exports, applications technology and events management. She joined the Global Education Digital team at Ivoclar Digital, Pforzheim in 2016.
Thomas Reiter successfully completed his training as a certified dental technician in 1986. Since then, he has worked in various fields of dental technology in and outside Germany, including the Netherlands (CICERO Dental Systems, 1999–2003, University of Amsterdam, 2003–2006), USA (Yale University, 2008–2009) and Brazil (2009–2010). After returning to Germany, Thomas worked at Dentsply Sirona as Technical Consultant for Analog and Digital Products (2010–2016), and later as Clinical Manager responsible for online education, education and University support (2016–2021). In August 2021, Thomas joined Ivoclar in Pforzheim as a Manager Global Education Digital.